Social media and Tagboard: We are in the season of giving; according to donorbox.org, 31% of annual giving happens in the final month of the year. While this shared support comes in the form of record-setting donations and acts of kindness, social media acts as the glue that ties it all together and helps spread the word. The latest example is the NFL's annual "My Cause My Cleats" campaign where players get to wear custom cleats during games before putting them up for auction and donating all proceeds directly to a cause that's near and dear to them.
The Washington Commanders highlighted the cause on their week 13 preview show while displaying a QR code that gave fans quick access to learn more and bid on the cleats. Players around the league take to their social media accounts and use #MyCauseMyCleats to spread awareness and show off their cleats. It will bring you all the feels as you read the stories about why each athlete selected a certain organization.
Another big driver of donations this season is GivingTuesday, which was created in 2012 as a simple idea: a day that encourages people to do good. Over the past years, it has grown into a year-round global movement that inspires hundreds of millions of people to give, collaborate, and celebrate generosity.
GivingTuesday 2022 saw a 15% increase compared to GivingTuesday 2021, and a 25% increase since 2020 with an estimated 37 million people contributing over $3.1 billion. An awesome sign as the giving continues to grow year after year. The outpouring of support is inspiring to see, and it's another campaign where we see social media play a big factor in the social impact.
Social Media for Social Impact
Trending globally is a common theme for GivingTuesday. In 2020 with over 600K posts on Twitter alone, #GivingTuesday content flooded the timelines of the 3.8 billion daily social media users, spreading the message and inspiring action. Celebrities including Lady Gaga, Robert Downey Jr. and Michelle Obama leveraged social platforms to unite their audience in support and make a social impact.
To capture the conversation and create further incentive to give, GivingTuesday featured this content directly within their Virtual HQ website. The Tagboard digital display garnered over 1.2 million post impressions and allowed visitors to interact directly with the featured content.
"The Tagboard digital integration helped us capture and visualize the conversation on social media within our Virtual HQ website," said Kathleen Murphy, Director of Digital Strategy for GivingTuesday. "Incorporating it helped grow the reach of our movement by encouraging more people to share the message behind it after seeing how others contributed."
Sharing and Capturing Kindness
Beyond GivingTuesday itself, the season of giving around winter holidays often inspires both individuals and brands to create their own movement for good. One example that embodied the spirit of giving originated from T-Mobile.
In a partnership with Feeding America, the T-Mobile #CaptureKindness campaign prompted people to share an act of kindness on social media. With a goal of providing 10 million meals to families in need, T-Mobile committed to donating 100 meals for every act of kindness shared, and the response was extraordinary.
Across the nation, people took action by organizing gift and food drives, donating clothes and backpacks to the homeless, paying for the order for someone behind them in line, or simply spreading kindness. Celebrities also joined the movement, and T-Mobile captured each act of kindness online as the Kind-O-Meter grew towards their goal.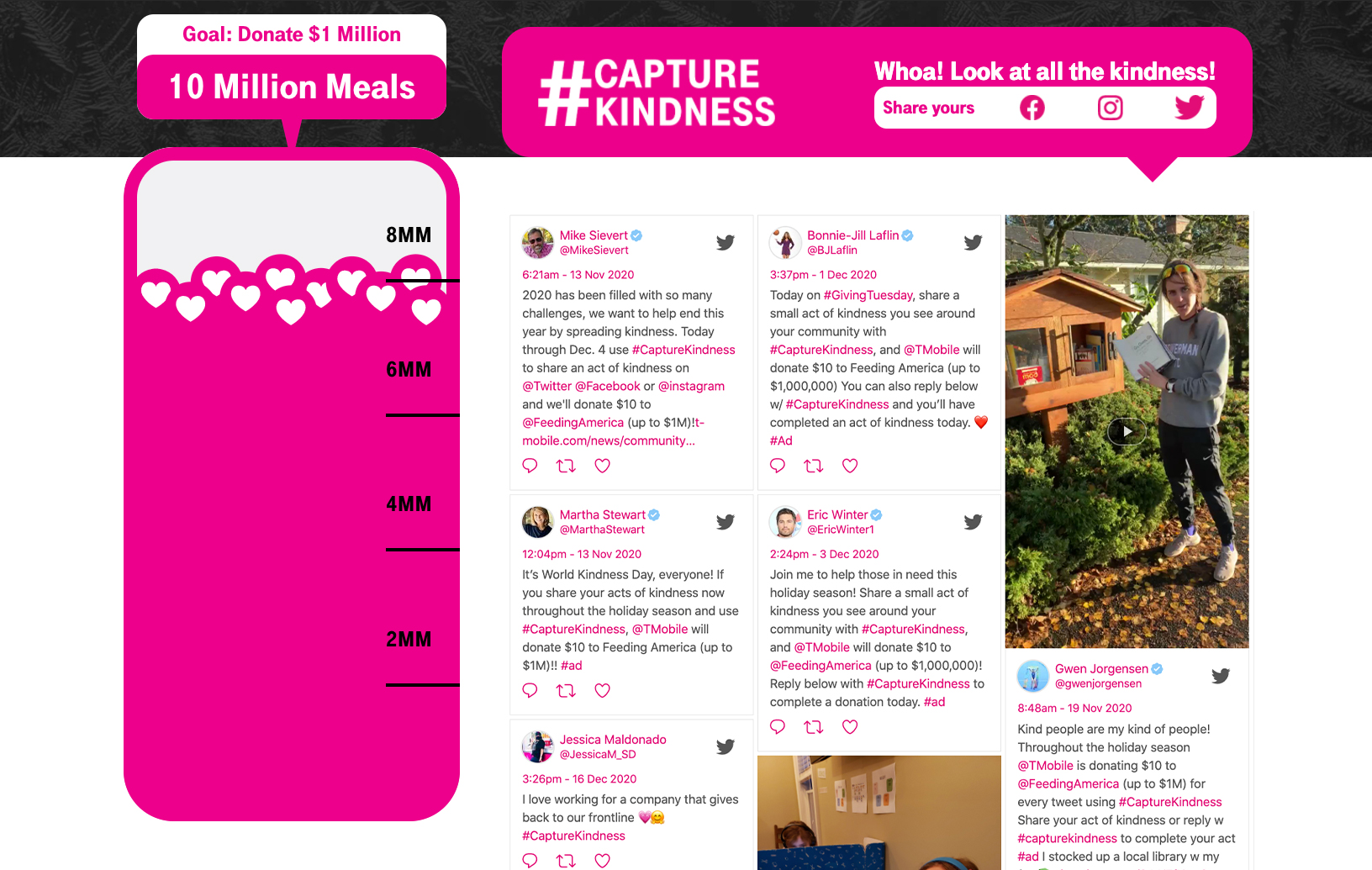 Organizations like the NFL, GivingTuesday, and T-Mobile stepped up to lead initiatives that encourage generosity, and by using social media to capture and amplify the message, the impact on society for good continues to grow.

Looking to increase your donations this holiday season? Request a demo of Tagboard today!