Two weeks ago, Tagboard's very own Kevin Shively (VP of Marketing) and Christine Borrmann (Senior Client Success Manager) hosted a Webinar to discuss new tactics and ideas for leveraging user-generated content for real-time marketing, news segments, events, and other social media storytelling.
Here are the greatest ideas to takeaway and apply to your business:
Social Media is Changing the Way We Tell Stories
Social media has had and continues to have the greatest effect on the changing landscape for storytelling. Everyone with a phone is now a citizen journalist, and the content they capture and share to social media is changing the way we interact with the world.
Content is created and consumed quicker than ever before. More video content is uploaded in 30 days than the major US television networks have created in 30 years. Everything is captured and then shared real-time via Instagram, Facebook, Twitter, Snapchat, or other social media outlets.
And as this is happening, media is changing along with it.
Each of us as marketers, brands, and media companies need to be telling these rich stories that are being shared through social, and doing whatever we can to get our audiences involved. Ultimately, that is what generates loyalty from your audience, which you want regardless of your industry.
What This Means for Marketers and Media Companies
It is hard to create good, quality content as a brand on a regular basis and do it quickly. When you think about your audience doing this, there are so many more of them who are capturing content and instantly uploading it, that there is an opportunity to use this content as a primary method of telling your story.
This kind of content is called user generated content (UGC), and is any content — usually distributed via social media or other digital channels — that has been created and put out there by unpaid contributors.
You can leverage this, and use what is already on social media instead of competing against it, through a three part approach.
Discover the content that is out there via hashtags, search terms, or location based searches.
Engage with your audience by using found content in a way that makes sense to what your business is and who makes up your audience. This could mean sharing public content on the user's behalf on big screens at games, during a news broadcast, or for employee engagement in the office.
Display the content. Put it in front of people and let these people who are telling your story be your advocates. It is an instant loyalty win for users to see their content displayed publicly.
Case Studies: Who's Leading Innovation
The following are a few examples of different use cases we have seen by companies who have used UGC well:
The first is an entertainment property that pushes the envelope; Telemundo.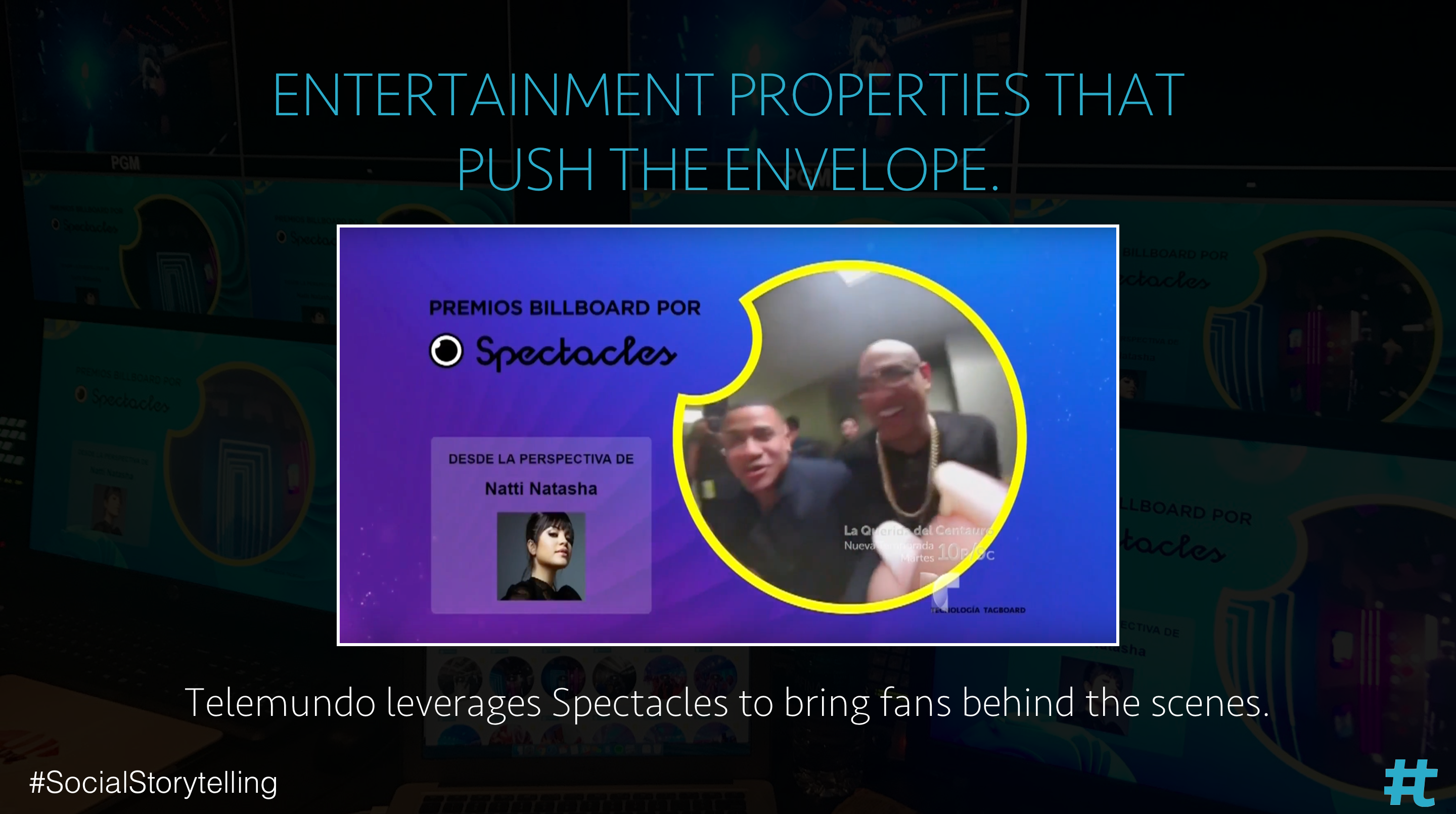 Telemundo leveraged Snapchat Spectacles for the Latin Billboard Awards. Celebrities wore these spectacles as they walked down the red carpet and as they were walking backstage and celebrating the award they just won. The perspective captured by these spectacles offered inside views at intimate moments that we're not usually invited to, giving audiences a unique view and way of feeling a part of something they will never get to experience.
In the area of sports, there are teams such as the Golden State Warriors that do an amazing job at making fans a part of every game day.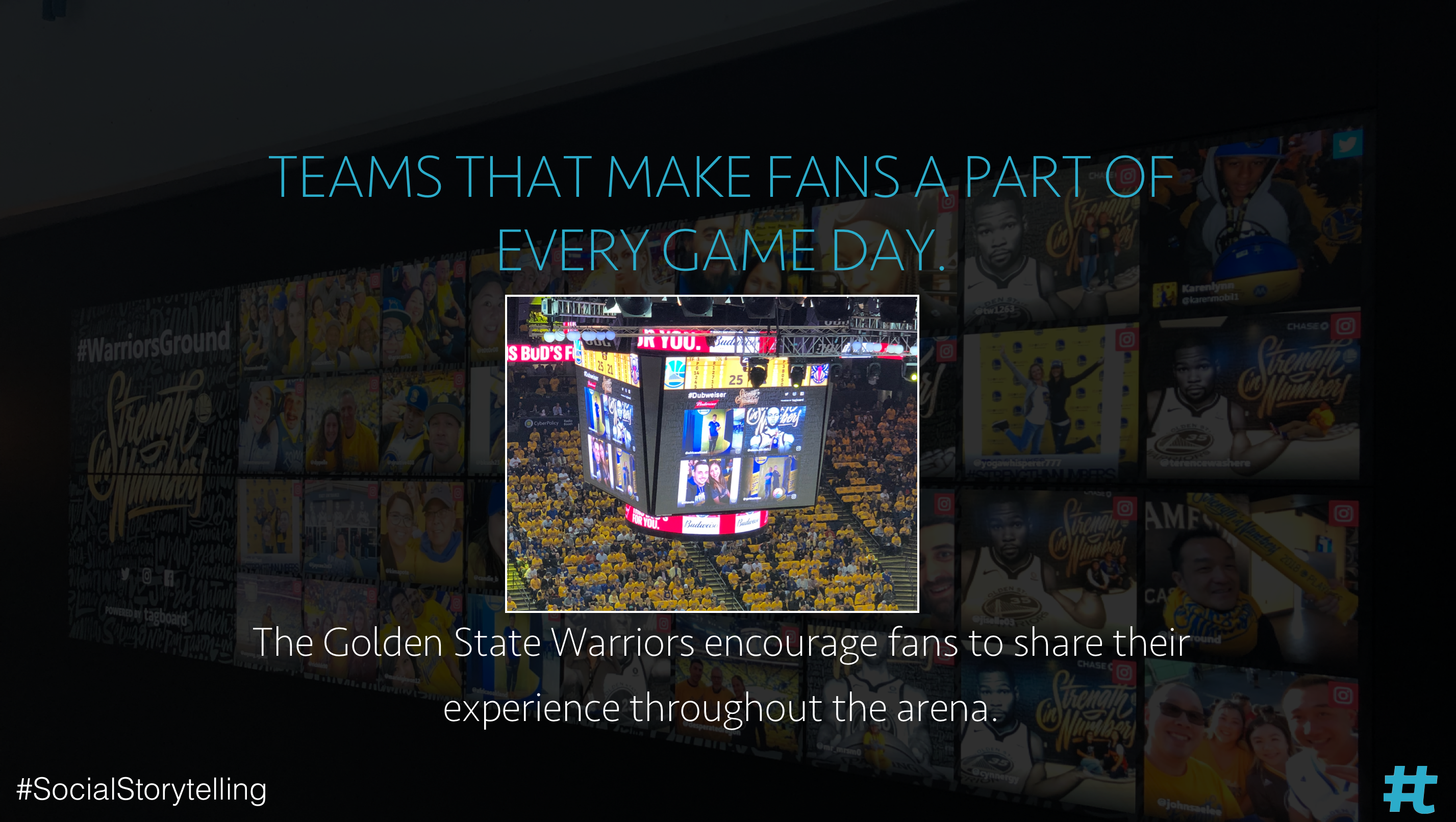 Throughout the Warriors' Strength in Numbers campaign, they shared their audiences' story through posts on the jumbotron and on a massive social wall in the stadium. They found spaces and screens in Oracle Arena that were being underutilized, and turned them into social displays that have fostered more engagement from their fans.
Finally, a brand that makes the customer experience central to their product is Call of Duty.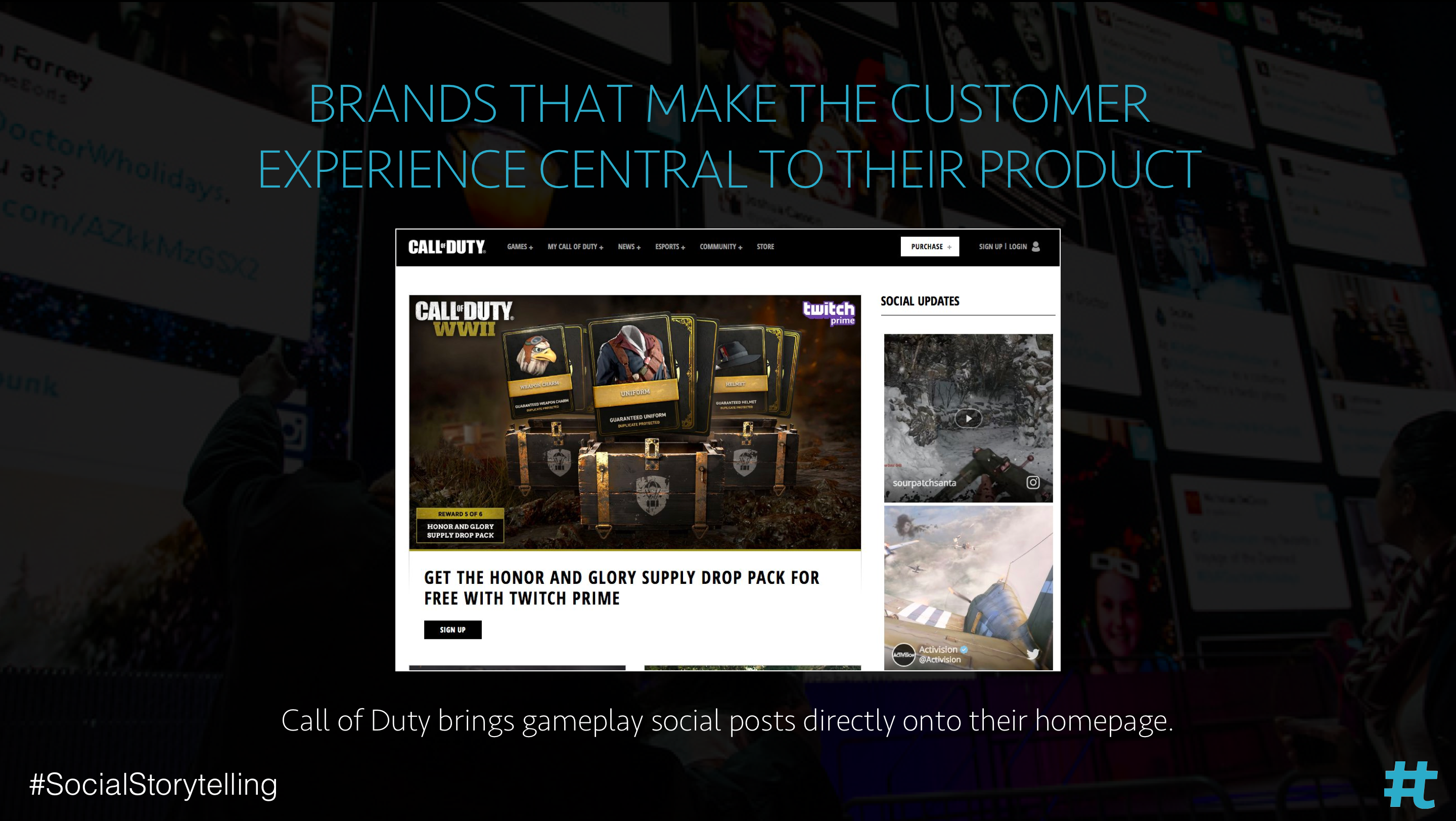 Call of Duty collects Instagram posts, tweets and videos of live game play, and inserts them on their website. This helps customers who plan on purchasing the game understand exactly what they are receiving better than a polished commercial would. It encourages conversation that Call of Duty can then repurpose and highlight on their website. This is a great example of a brand that optimizes its website to still give the audience a 360 degree experience, without having the large media channels sports teams and news stations have to spread content.
Technology Needs to Stay Ahead of the Curve
Social networks are encouraging user generated content and real people to tell stories as opposed to brands oversaturating the market with their message.
Snapchat, for instance, is a technology that is heavily used by consumers while only 13% of marketers use it. There is a big opportunity here to get in front of your target customers by pinpointing where they might be, and meeting them there.
Instagram Stories in the discover tab, Facebook encouraging more content from personal connections than from brands, Facebook promoting live video, and Twitter Moments pulling together news stories based on user content are also examples of how UGC is being encouraged through social networks.
Then on the software side, (and watch out because here comes a shameless plug) there are companies like Tagboard that provide you the opportunity to incorporate social content into your branded content. Tagboard Producer, one of the newer tools we have been working on, serves as a production suite for social media, giving you full control of social and building your story as a timeline.
So the future of real-time social media storytelling? It has already begun. Social media has changed the way we tell stories, and so, has given us as marketers and media companies a way to leverage these stories and convert them into branded content. This in turn, increases innovation in the platforms we use to tell stories and loyalty among our audiences.