I'm excited to announce that today, the next phase of social storytelling is here. It's called Tagboard Producer, and it brings social media to life in a way you've never seen before.
Tagboard Producer powers live TV and events, allowing production teams to create stunning displays and stories from any social content, control that content in real-time, and edit that story on the fly. It works like the video editing tools you already use on a daily basis, and has a simple control interface for both on-air talent, and the team in the booth.
Throughout our BETA process, Tagboard Producer has become a staple for some of the largest broadcast properties around, and I can't wait to see how it simplifies and enhances your team's production too.
Raw. Rich. In Real-Time.
When I started Tagboard seven years ago, it was with one purpose: To give organizations the ability to bring their community together and share stories. This purpose hasn't changed. What has changed is how those stories are shared. How they're told. And most important, what broadcast companies, sports teams, brands, agencies, and other organizations can do with them.
Today, social storytelling is a critical component of a successful broadcast. It captures the angles your team might miss otherwise — from local news stations leveraging social video from networks like Snapchat (to cover events when they can't send a camera crew), and entertainment properties pushing the envelope with behind-the-scenes coverage from live events, to brands, sports teams, and national broadcasters that make social a part of the story by bringing in content from influencers, athletes, and celebrities.
More video content is uploaded over the course of 30 days than the major U.S. broadcast companies have created in 30 years. Your audience is already telling the stories you want to bring to the screen. Now you can meet them where they are, and with ease.
A Producer's Dream Tool
We developed Tagboard Producer with your workflow in mind, and the features are designed to make social storytelling uncomplicated. In turn, your broadcasts and live productions are richer. Here's how it works:
1. Access all of your Tagboard content
Tagboard producer allows you to access any of your Tagboards and the content you've featured across Snapchat, Twitter, Instagram, and Facebook to bring it into a story.
2. Choose your display types for each piece of content, section, or story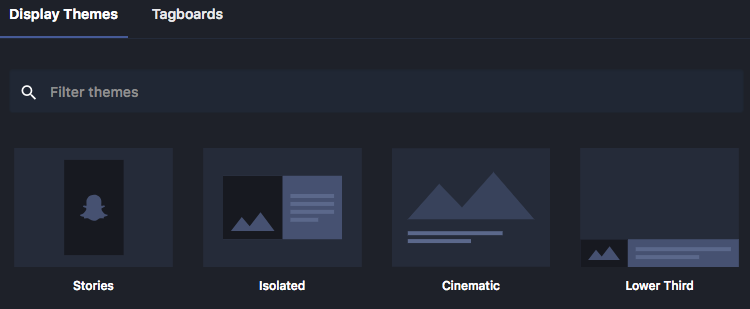 From a lower-third overlay to a single isolated video, customize your story however you like.
3. Drag-and-drop to create a story
Create the timeline for the story you want to display with the quick and intuitive editor.
4. Pause and play video clips
Set your preferences so videos can auto-play or hold until an anchor, host, or producer hits play.
5. Edit on the fly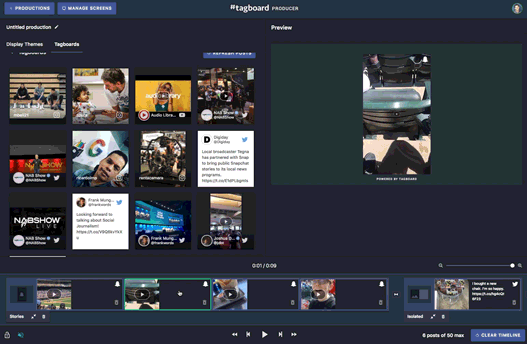 If you've ever been in a production room, you've likely heard on-air or on-stage talent say "Lets see that last clip again" and scrambled to jump back. With Tagboard, this is as easy as clicking on the post, or moving segments in the timeline editor to create a new flow.
If you're interested in learning more about Tagboard Producer, click here to get in touch. Can't wait to see what we can do together!