With bowl season now in the rearview mirror, we're reflecting on the busy few weeks we spent supporting some of the top college bowl games. To say it was fun would be a massive understatement. Starting with the AutoNation Cure Bowl and ending with the College Football Playoff National Championship, we had an absolute blast working with our innovative partners to discover and display the true storyline of each game.
To close out the 2018–19 college football season, Tagboard teamed up with eleven of the top bowl games to capture and amplify the conversation around each matchup. Along with each game came numerous engaging activations. But for the sake of time, let's take a closer look at two partnerships that created incredible fan experiences and brought every fan into the action: the Goodyear Cotton Bowl and the CFP National Championship.
The Goodyear Cotton Bowl
To wrap up 2018, we headed to Dallas where David Hooks Waller (Director of Digital Marketing at Cotton Bowl Athletic Association) helped push us to develop some of the most creative display designs we've ever done. The ginormous screens at AT&T Stadium not only highlighted these creative designs, but it also allowed us to magnify the social conversation surrounding the game. This in turn boosted the overall volume and reach of content for each team, while the presenting sponsors generated over 4 Billion digital impressions.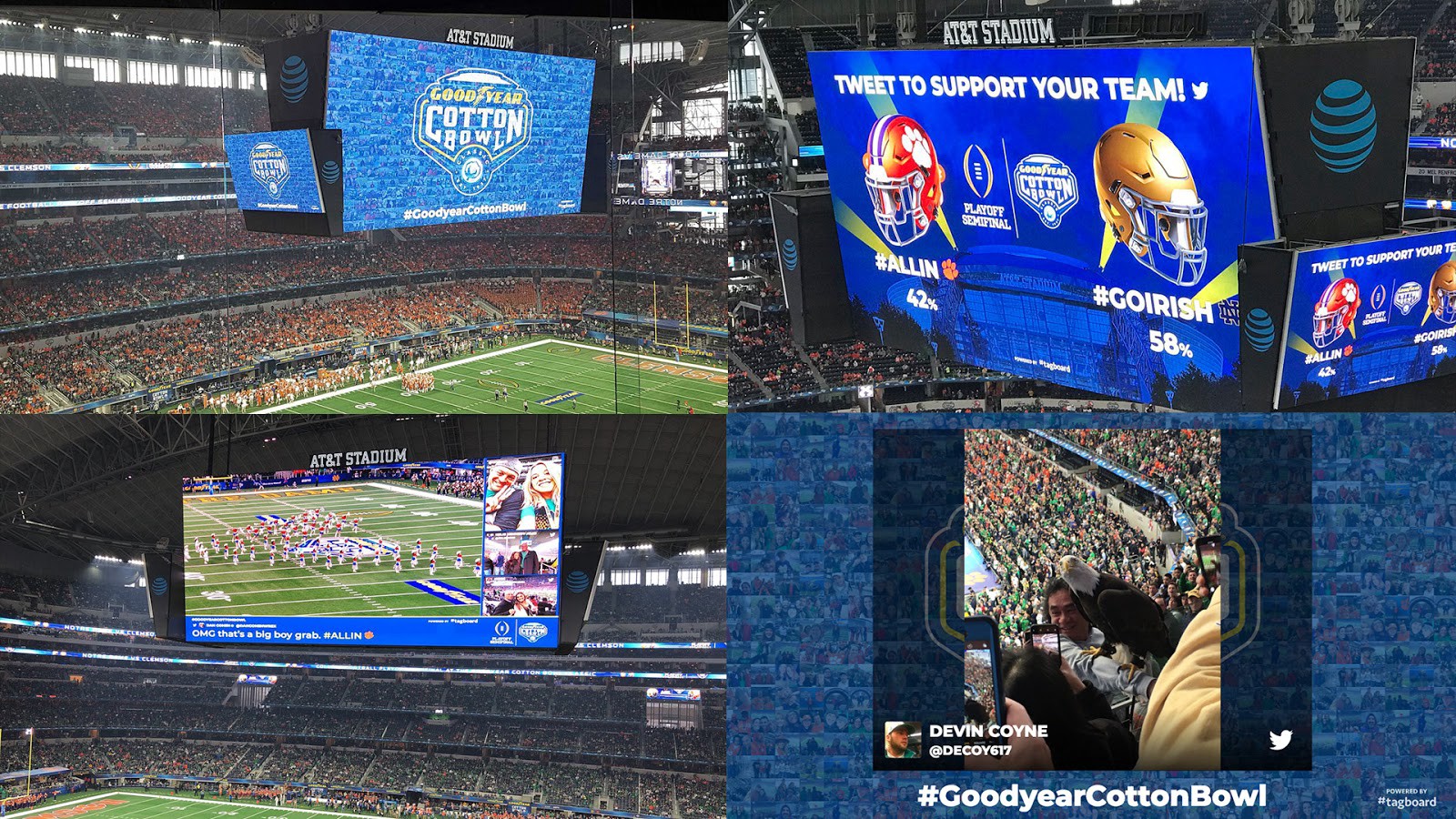 Using photos from fans around the stadium, we created a Goodyear Cotton Bowl mosaic and used it throughout the game to highlight posts that grabbed our attention. Our favorite had to be a photo of Clark the bald eagle who generated quite the buzz after taking a joy flight (and landing on a spectator!) during the National Anthem. We also prompted some friendly competition between the fan bases with a hashtag battle to crown the social champion off the field. During halftime, the conversation really came to life on the main screen through an L-Bar display that sparked the highest spike in content volume throughout the game. This display gave them flexibility to drive social engagement through photos and text commentary while still showing the halftime performances and highlights, making the entire experience truly immersive.
The College Football Playoff National Championship
A short week later, we had the pleasure of working with Katie Cavender (Assistant Director of Communications at College Football Playoff) and the amazing CFP team to power social storytelling displays across each of their fan-centric events along with the game itself. Altogether, the campaigns run at the four fan events and the game drove over half a million organic posts and generated over 9.3 Billion digital impressions. Yes, you read that right — 9.3 BILLION.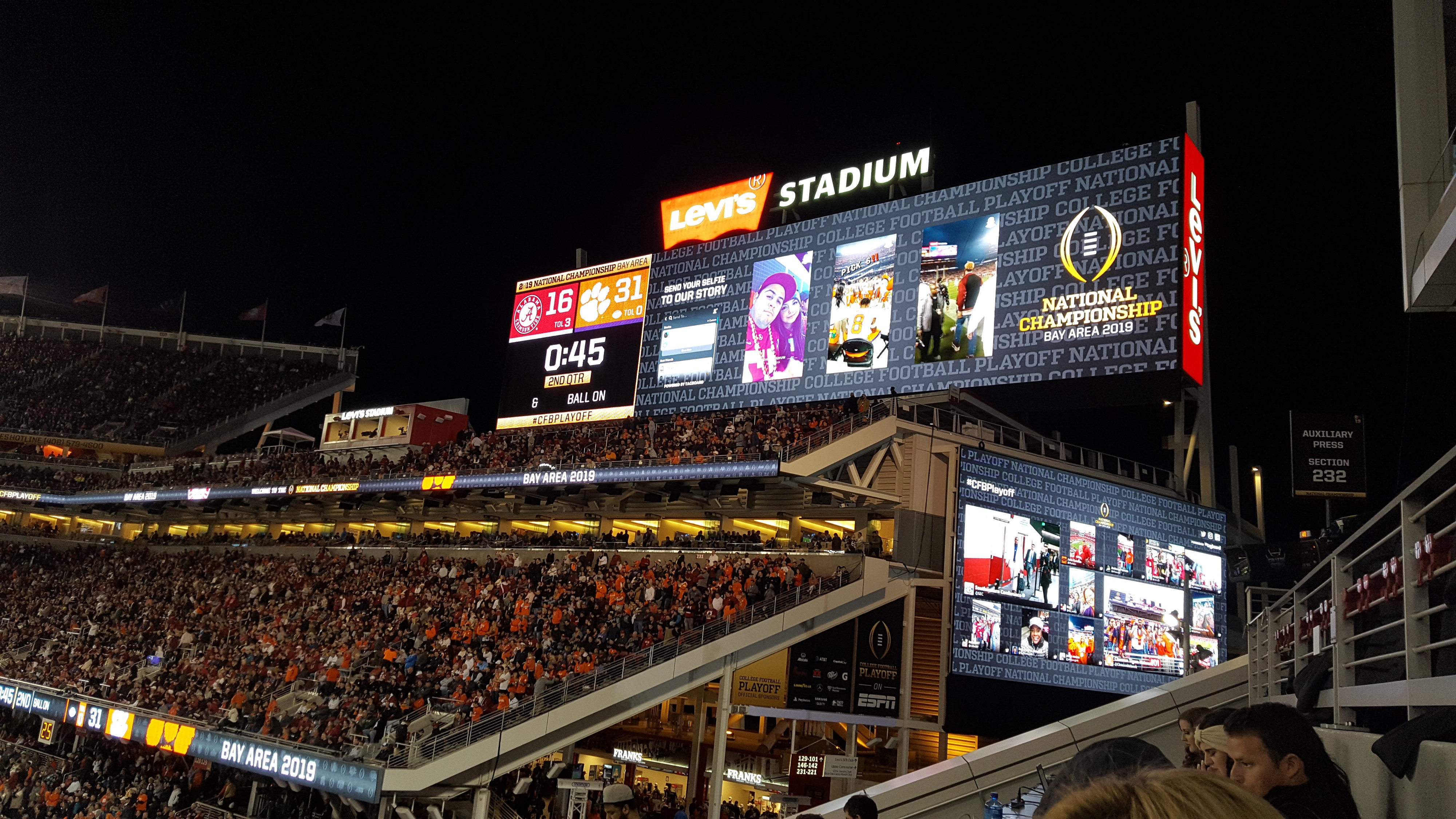 The weekend kicked off with Fan Central and AT&T Playoff Playlist Live, which provided a multitude of photo ops, games, free music and of course a chance to get featured on Tagboard. On Saturday morning, Media Day generated plenty of buzz among fans and media as they heard directly from players and coaches while we captured all of the top social chatter on the main screen. On game day, the CFP team put on a legendary tailgate outside of Levi's Stadium that included good grub, charity activities, and a performance by Keith Urban. It was a terrific slate of entertainment, and Tagboard was present throughout to help elevate the top moments both in venue and online.
When the gates opened for the main event, we quickly hunkered down with the production crew in-stadium. Van Wagner Sports & Entertainment (VWSE) led production on one of the most socially engaging game day experiences we've ever been a part of. From celebrity commentary to fan photos and hashtag polling, the game presentation created a dynamic two-way conversation with the fans in attendance. At the same time, it showcased the story of the game through the lens of social media.
"Hosting this year's College Football Playoff National Championship in Silicon Valley, the epicenter of digital connectedness, presented a challenge and opportunity to elevate the CFP's social media presence to new heights. By bringing fans and media into each moment of game week through Tagboard's technology, we were able to create a clear call for all attendees to share photos, videos and commentary from each event, which generated even stronger conversation and connectedness across each social channel. Then, when that content appeared on screens across Championship Campus and at Levi's Stadium, another major spike occurred in our social activity, continuing the cycle and driving even deeper, more meaningful engagement." – Katie Cavender, Assistant Director of Communications, College Football Playoff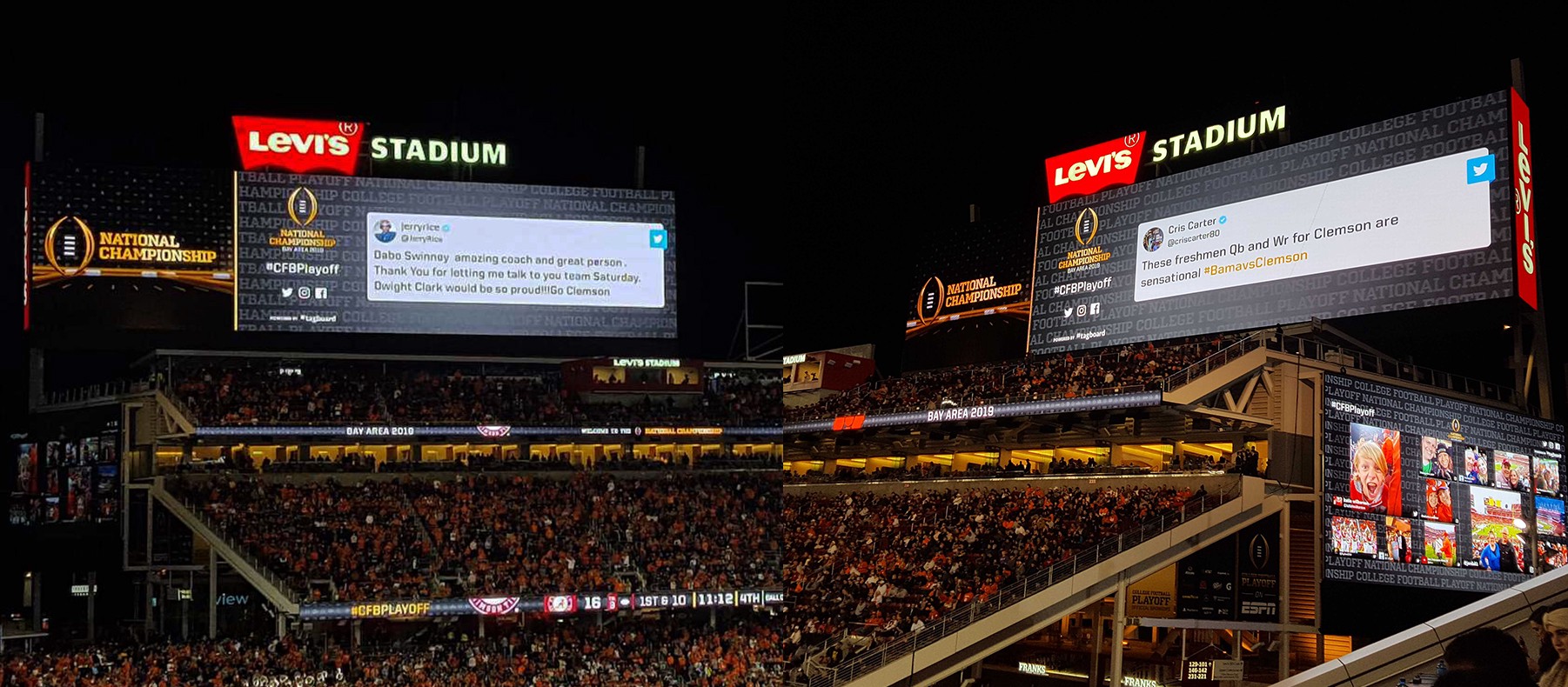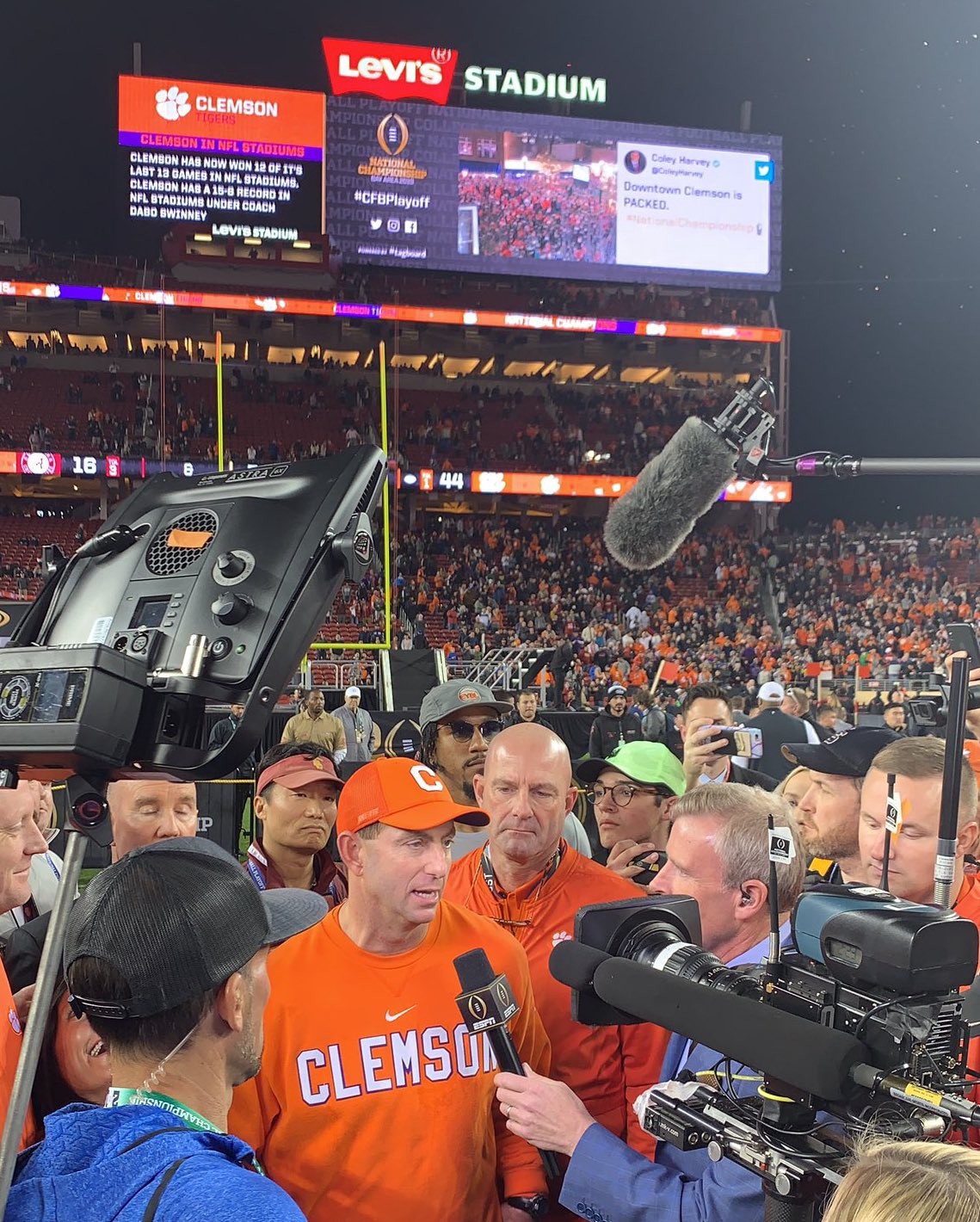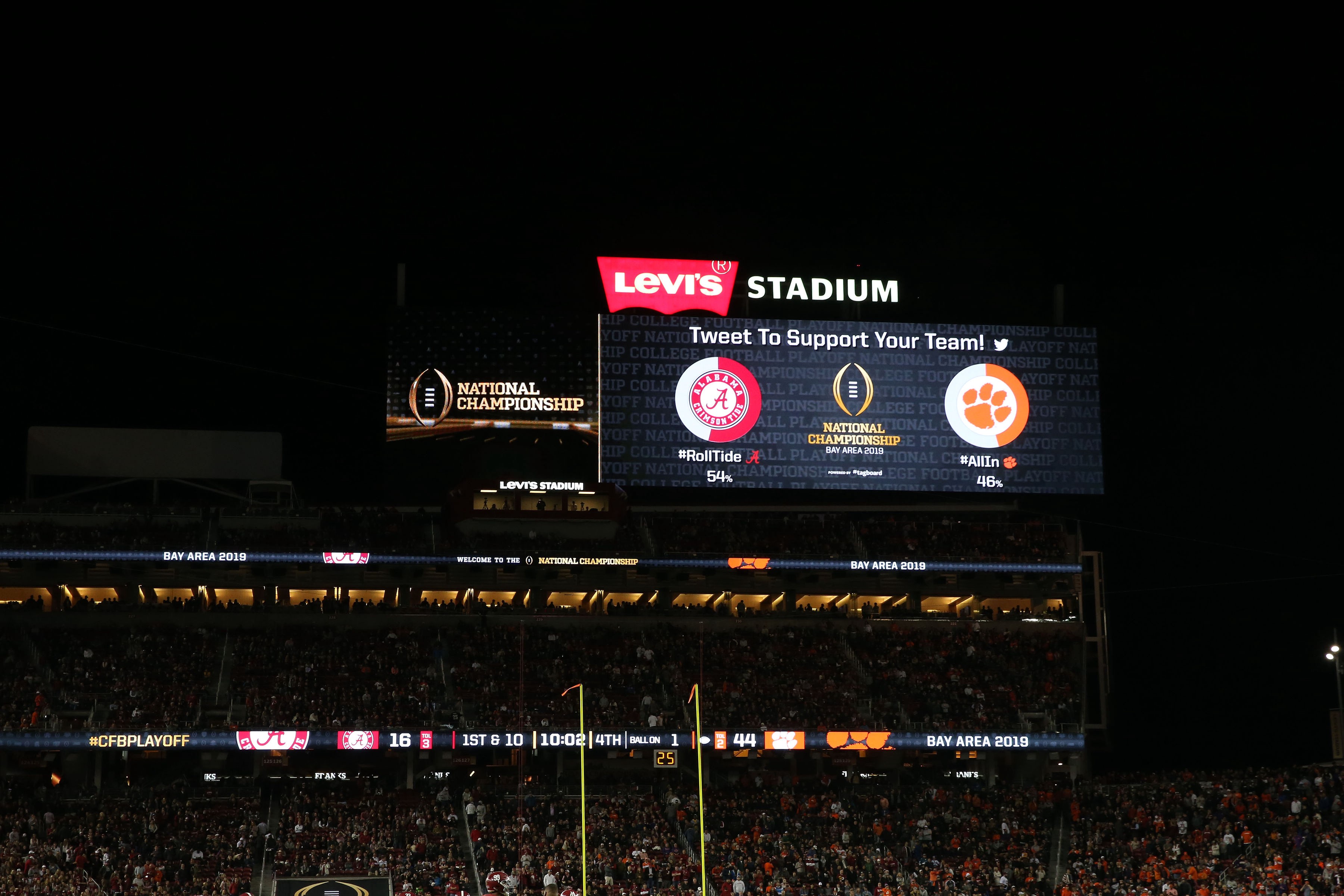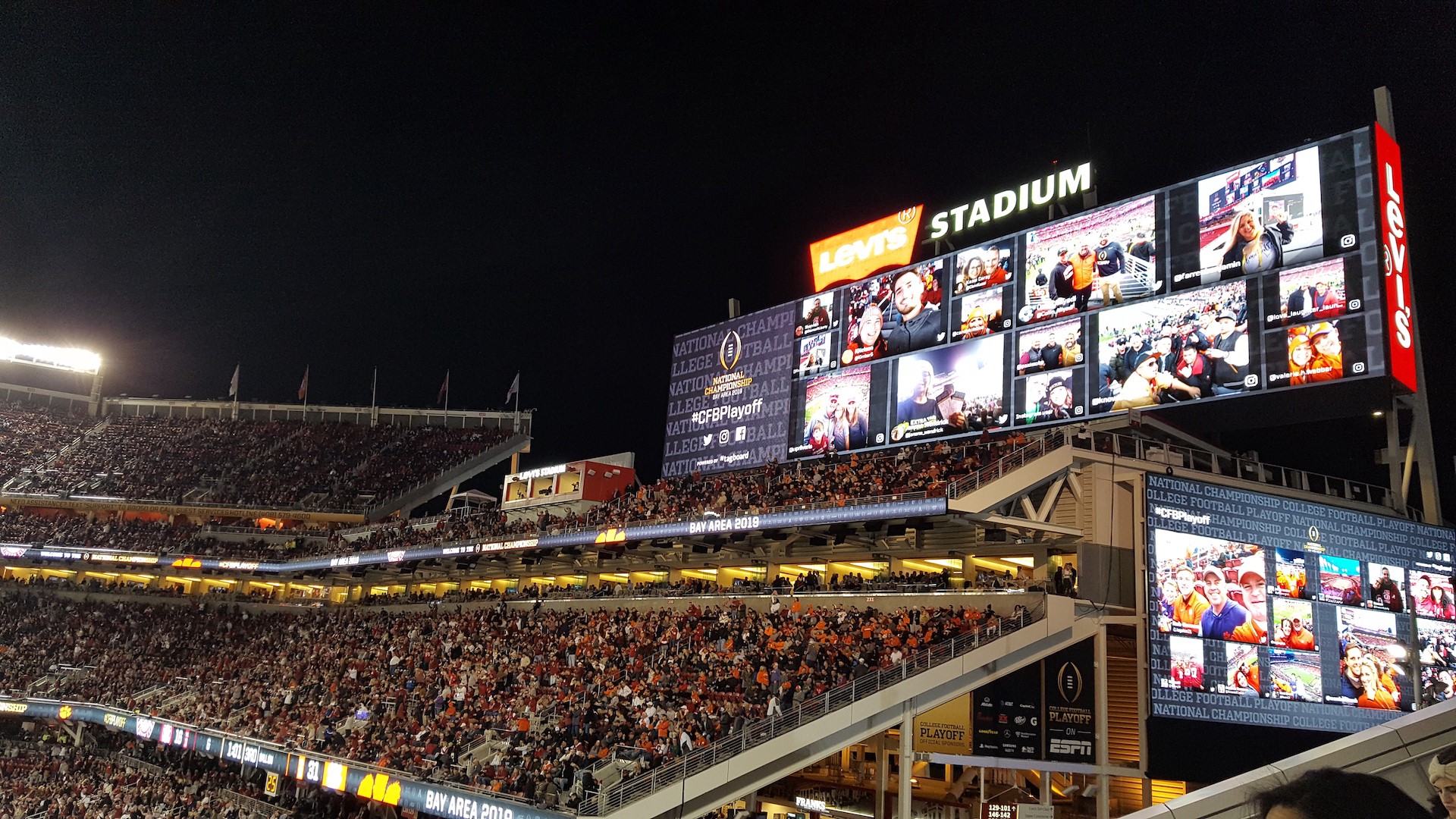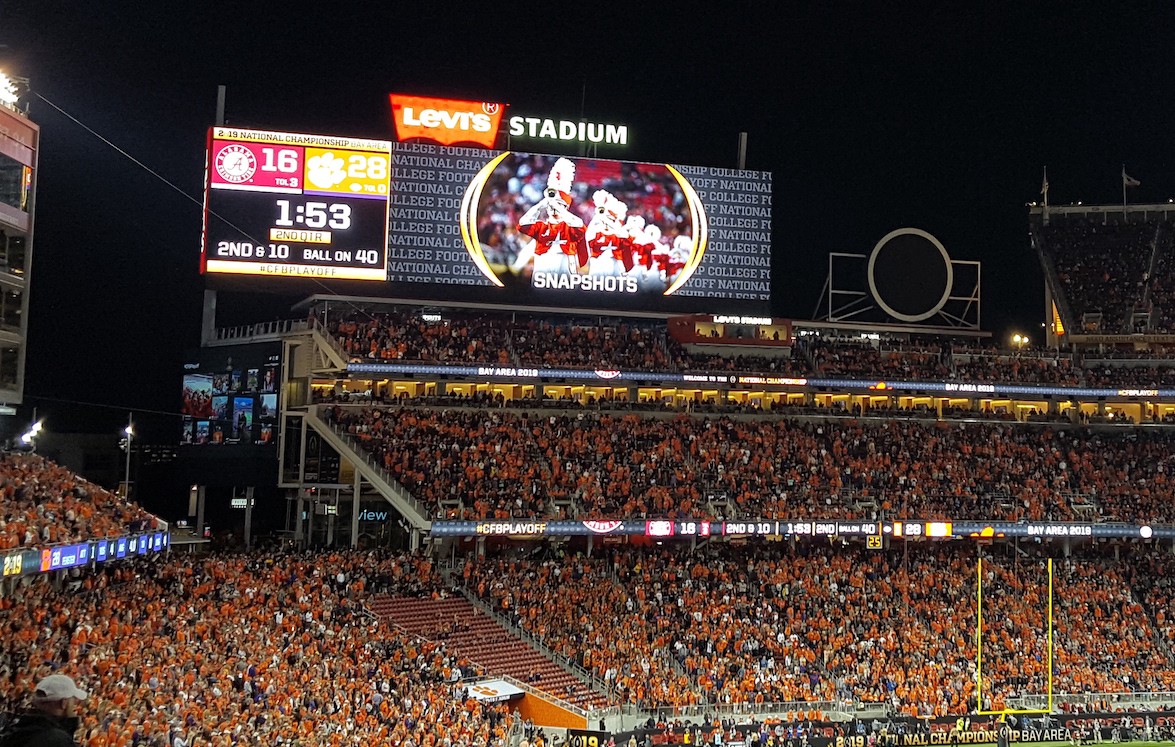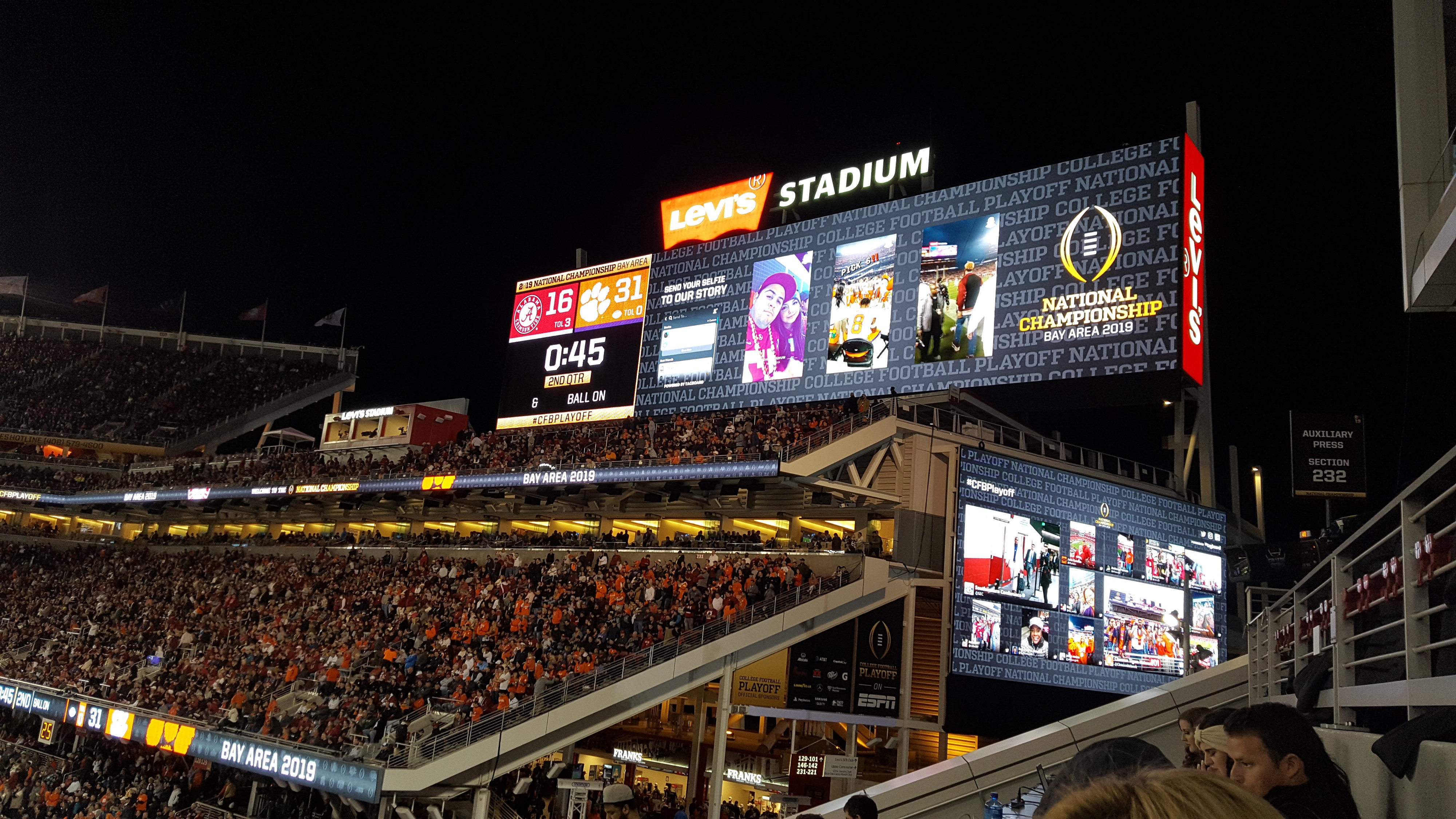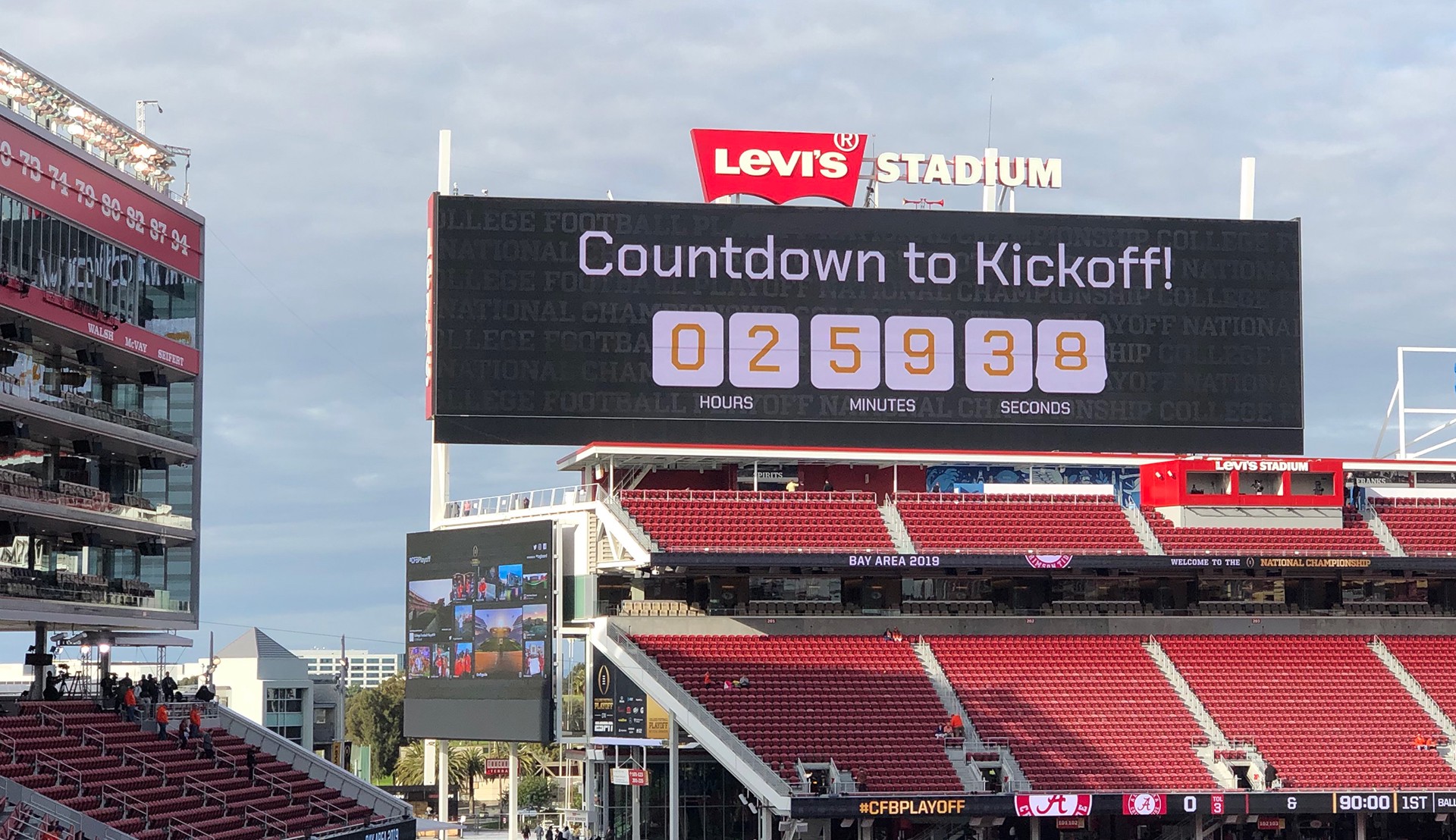 The role that live social media content plays for fans — both inside and outside the stadium — has never been more vital. Partners like those at CFP push us to learn and innovate, and we're extremely grateful to have been their platform of choice. Don't mind us as we count down the seconds to next season. For now though, we're ready to help you take your fan experience to the next level. Are you?